I have been obsessing over gladiator sandals for years now! I especially obsess and love when I see them in CHLOE's fashion shows, she implements the shoes so perfectly with her unique style of clothing. I don't have skinny legs so I never bothered to try them on because I felt as though they wouldn't look good on me. So I admired from afar, until I walked into Steve Madden over the weekend and bought these babies! 90 % of my shoes are from Steven Madden, flats, wedges or booties, I love that they are all made for comfort. So, I tried these on and I couldn't believe that they fit and actually looked good on me!!
I am from New York so all my clothes are black and now that I live in Miami, I am trying to sway away from so much dark colored clothing and breaking the habit of layering outfits, and I am slowly revamping my wardrobe into lighter pieces for the year round heat. My style is very eclectic and it's mainly bohemian chic. I am into black clothing with pops of color, I love leathers and furs, I love shirt-dresses with booties and a top hat. I love a fitted dress with a light trench coat, I like a lot of over sized tops and jackets, ripped jeans with flats and a tucked in button down. I love a white tee with boots and stacked up necklaces. I love it all, and I always go for effortless, simple and comfortable outfits.
My mother calls these a "fashion tragedy" and "the ugliest shoes I've ever seen" and that's why I call her crazy! What's not to love about these?!  They make for a great accessory to any outfit. However, as much I am obsessing over them, I found one flaw – when you tie it, it doesn't stay put and it rides down as you walk.

I came across this article titled: 25 Ways Real Girls Wear Gladiator Sandals. I loved every outfit!
Via, Stylecaster.com
By now, you've probably heard that gladiator sandals are one of Spring 2015's biggest trends, thanks to top designers like Valentino, Rodarte, and Chloe. And—if you've done your homework—you'll know there's a pair to fit anyone's style, from demure ankle-length versions to bold styles that stretch above your knee. And while, sure, they looked incredibly cool coming down the runway on models' gazelle-like legs, it's a fact that gladiator sandals can be tricky to style if you're not storming the catwalk.
STEVE MADDEN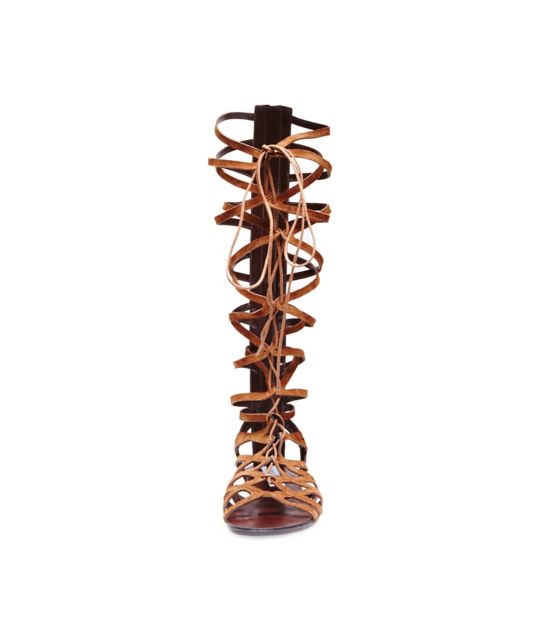 What: Hercules Knee High Gladiator Sandals
Price: $99.95, with tax I paid $110
Where: Any Steve Madden store, or Macys & Nordstorm