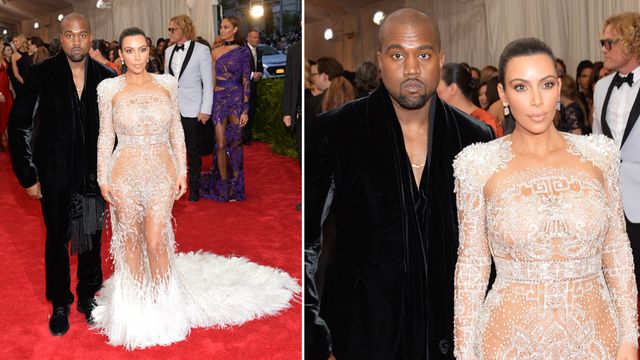 Kim Kardashian in Roberto Cavalli…I am torn with this look. I like it but at the same time, I don't like it. First thing that came to mind, was it reminded me too much of Beyonce's 2013 Met Gala Givenchy dress. From the pony tail, light makeup, the poses, the sheer and all the detailing of the dress down to the floor. What I don't like about Kim's style is that she tries way too hard, when she doesn't need too. It was a different look on her. I think the shoulder detailing was a little much with all that body she has going on. I would have liked it better without the sleeves. And Kanye West looks ridiculous with his mean mugging poses, he always looks angry, just throw a smile on homie, you have a beautiful woman in your arm.
Also – during Met Gala Kim K took to her instagram and wrote her look was inspired by Cher. She mentioned it several times, and in typical Kardashian/Jenner fashion, where they spin, manipulate and lie for things to be in their favor and to get everyone on their corner – I thought it was a little too obvious by her feeling the need to defend herself in a few different posts on instagram and play it off. It's okay to say you are inspired by Beyonce, we all know Kanye is obsessed with the Queen B and he wants you to be the white version of her, but you are lacking talent, class and list goes on, no one will ever be in Beyonce's level.
Another thing I find funny, that I am going to do a different post on – is when Kim and Kanye pose on the carpet, her body is always disconnected with his house, and she is always in front of him to be the main focus. He is always standing behind her looking like a creep. I've never seen any other couple constantly do that.
Kate Hudson in Michael Kors – I love this and everything about this look. She looked like a golden goddess.
Shu Pei Qin..don't know who she is or what she is wearing but I love this dress!!! She needed to put her hair in a sleek pony tail or a simple high bun.
Jessica Hart in Valentino…I normally wouldn't care for this dress, but the theme of the night was CHINA and I like the dress because it goes with that theme. I also like how her hair is styled and I can see this look being a huge hit if there was Oscars in China.
Sienna Miller in Thakoon. I don't why but I am loving this soooo much. I don't have anything else to say other than this entire look was on fleeeek.
Rihanna in Guo Pei. Okay, I don't like this but again, the theme was China, and this is what the Met Gala is about; there is a theme for the night every year, and everyone is supposed to be decked in high fashion costume and  that is exactly what Rihanna did and for that, I gotta give her a pass.
Helen Mirren in Dolce & Gabanna. So elegant. The color of the night was red and you can never go wrong with a red look.
Keri Russel in Altuzarra dress. I like this dress! This would'a been a hit on the Oscars. I don't have much else to say other than I am digging this.
Lizzy Caplan in Donna Karen. LOVE!
Alexa Chung in Erdem…I love! I would have done without the shoes though, but flower patterns, satin and silk remind me of Chinese clothing. It's such a soft elegant look.
Rose Byran in Calvin Klein. Again, I don't know why but I am finding myself to be out of my comfort zone with fashion with this recap, but I like this look. It's sleek, chic and edgy.
Karolina Kurkova in Tommy Hilfger. I love this. It takes a high fashion model to understand what a night like this is about. I love that she came matching the theme and from head to toe this look is beautiful.
Jennifer Lopez in Versace. I love anything J.Lo. She can never do any wrong on the red carpet, however, I am not cray about this. It's boring, I've seen it before plenty of times and she played it too safe. She looks beautiful as always, and the whole is divine,  but I usually have to pick my jaw off the ground when she strolls through these carpets, and this time, nothing dropped, other than a yawn.
BEYONCE: MURDERED THE SCENE OF THE RED CARPET AT THE MET GALA 2015.
She dazzled, sparkled, shined, slayed it in this Givenchy dress.
Everyone was forgotten about soon as Beyonce came through that magical red carpet. No one does sheer like she can. What I love is how she becomes the part in whatever dress she is wearing and has fun with it all. She was the best dressed, yet again.
Kim and Kanye since ya'll be the Carters so bad, take notes on how a couple poses and their body language. I love them, and I love how Jay Z loves to see his girl shine, and in this pic, he is stepped away a little to allow her that dress moment. He gets it, he gets it. There is levels to this.
MY FAVORITE LOOK OF ALL TIME:
BEYONCE IN GIVENCHY AT THE MET GALA IN 2014.
I had to share it again. It is my top five favorite red carpet looks of all time. No one does it like the queen Beyonce.
What was your favorite look?