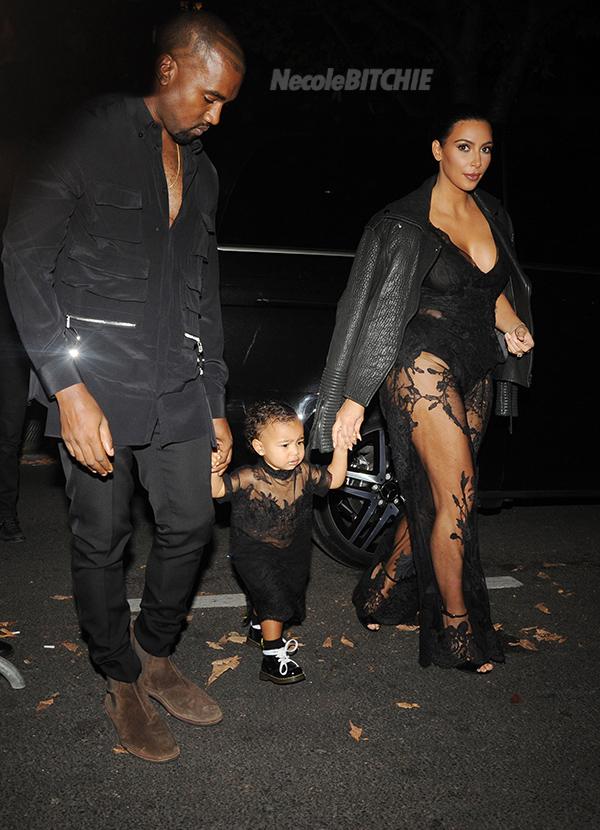 As much as Kanye West rants about his detest for paparazzi and celebrity, he sure is obsessed with it. We all know Kim Kardashian is the biggest fame-whore and everything she does is to generate publicity. What I also don't understand is how most of her instagram pictures are paparazzi snaps. Yet, they both complain about the paps snaps. She is always dressed for a fashion event with glam hair and makeup, ready to be photographed, everywhere she goes with cameras following and paparazzi on speed dail.  She is also constantly seen in public and rarely with her daughter, traveling abroad without her. Why not just stay home often or take your child with you or just not call photographs to snap pictures of you constantly?! They are obsessed with the idea of celebrity than they are of reality.
This week they are invading Paris fashion week. I am all for attending fashion shows, for the love of fashion, but in their case its for the photos and publicity. They took their daughter North West to two fashion shows this week, the first one, she looked like a mini Kanye with leather leggings, leather skirt and a Yeezus shirt, I thought it was cute, but she is a little girl, dress her for her age. Whenever Kim is seen publicly with her daughter, she holds her like an accessory, strategically carries her for a pose. There is also a video of her purposely placing her daughter down to walk in front of a hundred flashing cameras, just so they can got a shot of her outfit and of her walking, and only decided to hold her when they entered the building and left the vision of the paps. Then they came in to the Givenchy show with matching lace outfits. Kim is wearing a body suit/ jumpsuit, it ain't cute and her child is dressed like a grown girl with a see through lace dress. I don't understand how you feel it's appropriate for a one year old little girl to wear see through lace…I'll leave it at that.
I am not going to post anymore pictures of North, if I knew how to I would blurt out her face but i don't, and regardless she is all over google and blogs, she is a little girl, those pictures are far away and can't see her face up close, but if you are to check out her pictures, you won't find a single one of her looking happy and smiling, instead looking somber and frustrated. Please don't take this as I am talking about a child or being so negative about it, but it isn't about her, it's about the parents and with them being so public, we all have a right to voice an opinion. I just really didn't find it appropriate for Kim to dress how she does as a mother, and how she dresses her 1 year old girl with see through black lace.We all sure have our opinions about the West family.